Sell Your Infiniti QX60 online!
Sell my Infiniti QX60 over market value today. CarZilo pays you more than KBB and beat all offers1
Sell My Infiniti QX60 to

CarZilo

today!

Sell my Infiniti QX60 for more! Few cars offer luxury that speaks to you, like the Infiniti QX60. The QX60 is a mid-sized, seven-seat luxury crossover SUV produced by Infiniti, the luxury division of automobile giant Nissan. Formerly known as the Infiniti JX until 2013, Infiniti has designed the QX60 to serve the perfect blend of performance and luxury. The QX60 features a powertrain consisting of a 295 horsepower, 3.5-liter V-6 engine. In addition, the QX60 also comes with premium features like massaging front seats and heated second-row seats, making it one of the premier crossover SUVs on the market.

Given how the QX60 seamlessly combines luxury and performance, it shouldn't surprise you to see the Infiniti QX60 patrolling the sunny streets of Los Angeles and San Diego. The QX60's dynamic offerings make it one of the most coveted luxury crossover SUVs, and if you're someone who enjoys crossover SUVs, we're willing to bet that you already own a QX60. However, you might want to sell your old Infiniti QX60, particularly if you're considering upgrading or switching vehicles. If that's the case, there's no better place to look than CarZilo!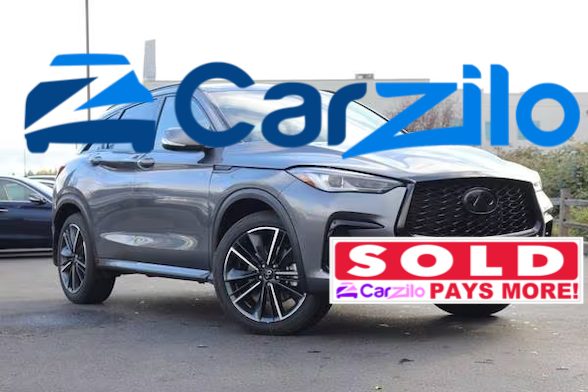 Sell Your Infiniti QX60
with a fair offer!
CarZilo is a licensed car buying service in Southern California that allows you to sell your Infiniti QX60 for cash. We understand how challenging selling your old vehicle can be, especially with prospective buyers trying to undervalue your car. Hence, we've designed our entire process to simplify selling your vehicle without encountering any hassle because of our excellent customer service. We're currently providing our cash for car service in the following locations: Los Angeles County, Riverside, San Diego, Orange County, and Ventura County.
If you're interested in selling your Infiniti QX60, our process is extremely straightforward. All you have to do is fill out our web form, providing pertinent information, like the make and model of your car, year of release, and your vehicle's VIN and license plate number. In addition, we'll also require your contact details so we can get back to you with an excellent offer. Once we receive your details, we'll determine the market value of your car by cross-checking it with multiple sources before responding with a price that exceeds its market valuation. Therefore, selling your automobile to us ensures you don't have to face undercutting practices from buyers that are often tedious. Selling your vehicle has never been easier!
If you decide to accept our offer, we'll schedule your car for an inspection and appraisal. All you have to do is bring your vehicle to the designated location, and we'll take care of the rest. Our team will already have prepared the necessary DMV documents, ensuring that you don't have to deal with tedious piles of paperwork. Once our team completes the inspection, all you have to do is dot a few lines with your signature, and you can walk out with your cash payment in hand. We'll also offer you a complimentary ride home!
Sell My Infiniti QX60
CarZilo Way!
Popular Infiniti qX60 models
Infiniti QX60 Utility 4D 2WD
Infiniti QX60 Utility 4D Hybrid 2WD
Infiniti QX60 Utility 4D Essential 2WD
Infiniti QX60 Utility 4D Limited 2WD
Infiniti QX60 Utility 4D Luxe 2WD
Infiniti QX60 Utility 4D Pure 2WD
Infiniti QX60 Utility 4D Edition 30 2WD
Infiniti QX60 Utility 4D Signature 2WD
Infiniti QX60 Utility 4D Autograph 2WD
Infiniti QX60 Utility 4D Sensory 2WD
Infiniti QX60 Utility 4D AWD
Infiniti QX60 Utility 4D Hybrid AWD
Infiniti QX60 Utility 4D Essential AWD
Infiniti QX60 Utility 4D Limited AWD
Infiniti QX60 Utility 4D Luxe AWD
Infiniti QX60 Utility 4D Pure AWD
Infiniti QX60 Utility 4D Edition 30 AWD
Infiniti QX60 Utility 4D Signature AWD
Infiniti QX60 Utility 4D Autograph AWD
Infiniti QX60 Utility 4D Sensory AWD
Locations to Sell My Infiniti QX60
Our services are available across Southern California. Our main areas of operation include the following cities and counties
Frequently Asked Questions