Sell Your Ferrari Online!
Sell your Ferrari with CarZilo world class concierge service for thousands over trade in and cash offers!
Sell your Ferrari to
CarZilo
Ferrari is one of the biggest car brands in the world. Primarily creating luxury supercars, Ferrari has become synonymous with racing over the years it has been around. Originally launched in 1939, Ferrari is now known to be the oldest and most successful company in Formula 1 racing. Sell your old Ferrari online for more than trade in value!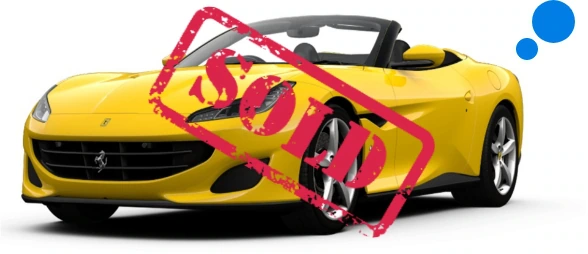 We're Ready to Buy,
Sell My Ferrari online
If you're trying to sell your old Ferrari but aren't sure where you could make that sale, CarZilo'scash for car service has got you covered! Our licensed car buying service will gladly take your old Ferrari, as well as most other vehicles, and offer the highest possible quote in return. One of the bigger issues with selling a supercar, like a Ferrari, is finding a reliable buyer willing to pay for the actual value of your car.
With CarZilo, we will always make an above maximum market value offer for any vehicle that we buy. We aim to offer the best possible rate with the first quote that we send you. If any other car buying service can make a bigger offer, share their quote with us, and we'll gladly beat it!
Our process makes selling your car so easy you don't even have to leave your house. You can sell your Ferrari for cash using our online web form. All you have to do is fill out the form with your contact information and some basic details about your vehicle. The necessary details required for your vehicle are as follows:
The year of release of your car
The make and model of your car
The license plate number or VIN of your car, if available
Once we have received this information, our team will run it through our databases and calculate the current market value of your vehicle. Using that information as our base, we'll send a custom quote that beats the market valuation. This ensures you're happy with the offer, and we can process the sale without a need for negotiations.
Once you receive the offer, you can choose to accept it within five days of receiving it. We will schedule a day for an inspection and finalization of the sale. Once the inspection is complete, you'll need to sign the DMV documents our team will have prepped. You can then receive your complete cash payment and finish the sale
Sell My Ferrari
Fast, Easy, and for More
Locations to Sell My Ferrari model
Our services are available across Southern California. Our main areas of operation include the following cities and counties
Frequently Asked Questions